DevelopWay CMS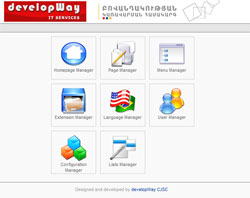 DevelopWay CMS is a Content Management System, that allows website administrators and moderators to easily create, edit and update their website content. Content can be simple text, photos, music, video, documents, or anything else.

The Content Management System provides tools to create rich websites and portals, update menus, submenus, pages and any other structural units. It also allows maintaining multilingual websites and dynamically adding new languages.
The CMS has many extensions that provide functionalities such as having forums, blogs, voting polls, etc.
It is easily customizable to be ready to meet your website's requirements.

DevelopWay CMS is written in pure PHP and uses MySQL as the main storage engine.